2020 McKim Medal Gala
Wednesday, June 10, 2020–7:00 PM
Villa Aurelia
Largo di Porta S. Pancrazio, 1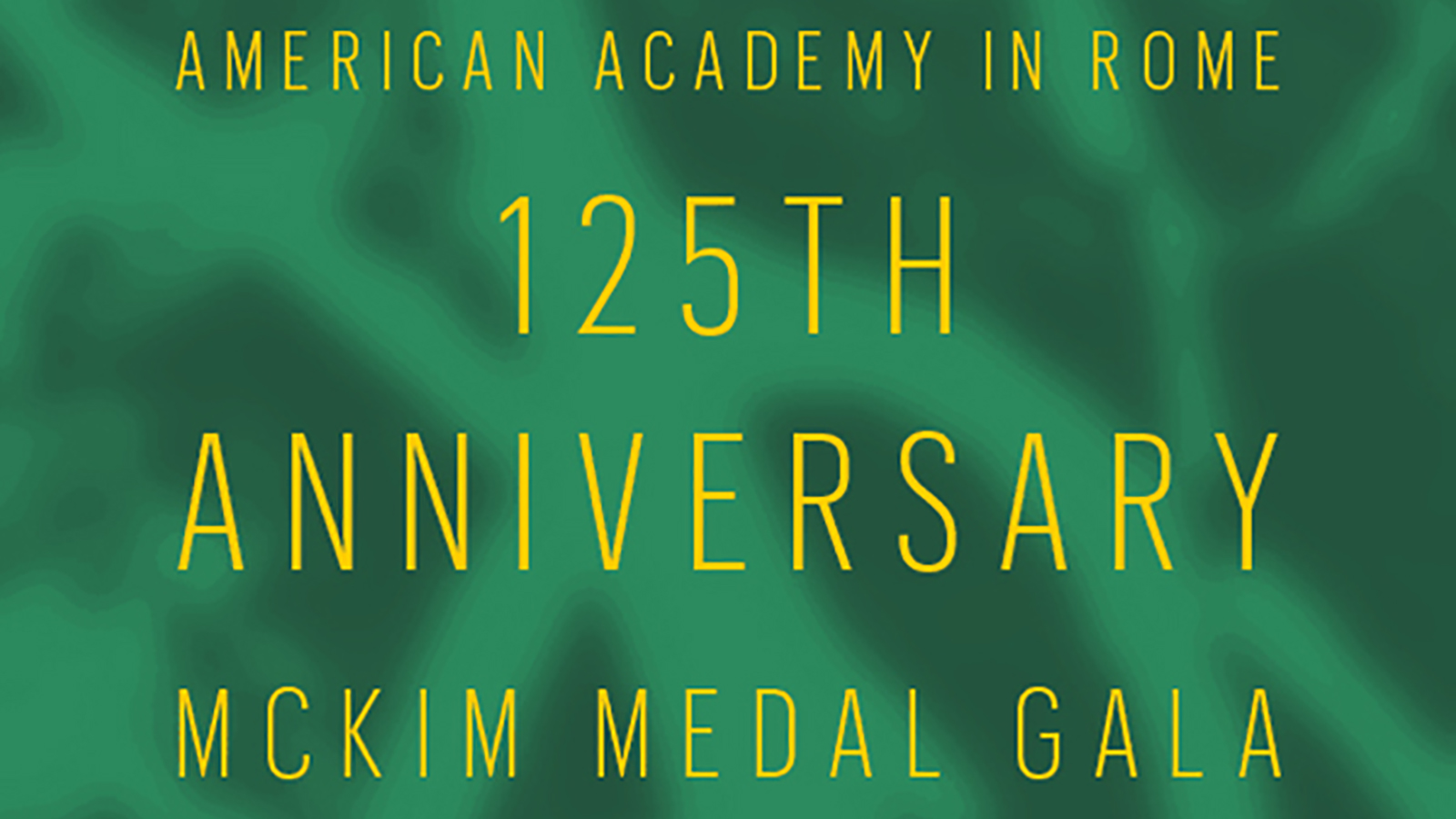 Canceled
Due to the ongoing situation related to the spread of COVID-19, the 2020 McKim Medal Gala, originally set for June 10, has been canceled.
The loss of the funds that would have been raised by this special evening has had a significant financial impact on our institution. If you were planning to support the 2020 McKim Medal Gala celebrating 125 years of the Academy, please consider making a contribution at this time.
The 2021 McKim Medal Gala has been set for Wednesday, June 9, 2021. Please save the date and stay tuned for more updates. We hope you will join us next year.
Proceeds from the McKim Medal Gala support the American Academy in Rome's efforts to foster interdisciplinary exchange among Italian and American artists and scholars within an exceptional global community. The Fellowship program enables talented Italians and Americans to pursue their work in an intellectually stimulating environment, and to contribute to evolving international discourse and interdisciplinary exchange through their participation in Academy programs such as concerts, lectures, readings, and exhibitions.
I wish to make a contribution!
For more information, please contact Wendy Fisher at w.fisher [at] aarome.org or 212-751-7200, ext. 352, or Inga Clausing at i.clausing [at] aarome.org.
Gala Chair
Maria Teresa Venturini Fendi
Honorary Gala Chairs
Mrs. Lewis M. Eisenberg
Ginerva Elkann Gaetani
Founding Gala Chair
Verdella Caracciolo De Benedictis
Dinner Committee
Alessia Antinori
Mercedes T. Bass
Cynthia Beck
Thomas Blount
Beatrice Bulgari
Marella Caracciolo Chia
Jacaranda Caracciolo Falck
Laura Cibrario Franzan
Inga Clausing
Noemia d'Amico
Suzanne Deal Booth
Delfina Delettrez Fendi
Elena Di Giovanni
Andrea Donzelli
Paola Gaetani d'Aragona
Francesco Gianni
Valeria Giuliani
Eugenio Grippo
Pepi Marchetti Franchi
Margherita Marenghi Vaselli
Alessia Margiotta Broglio
Nancy Novogrod
Martine Orsini
Diamara Parodi Delfino
Mirella Petteni Haggiag
Diana Picasso
Ines Torlonia Theodoli Clarke
Soledad Twombly
Osanna Visconti di Modrone
Mafalda von Hessen
Elisabeth von Thurn und Taxis