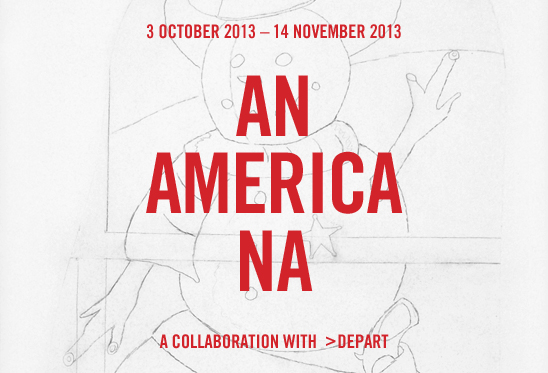 The exhibition, promoted by the DEPART Foundation, features work created by artists who live and work in the United States and who use different media, such as painting, photography, graphics, sculpture, installation, and video. The exhibition reinterprets the meaning of the word "Americana," playing with the ideas of patriotism and positivism, concepts that have always been associated with its definition, while offering a more ambiguous and complex meaning.
The show will bring together the work of artists from different generations who pursue various poetic and stylistic expressions: Uri Aran, Darren Bader, Aaron Bobrow, Joe Bradley, Tom Burr, Nick Darmstaedter, Louis Eisner, Roe Ethridge, Sam Falls, Mark Flood, Erik Frydenborg, Elias Hansen, John Henderson, Mike Kelley, Brendan Lynch, Carter Mull, Takeshi Murata, Oscar Murillo, Trevor Paglen, Mitzi Pederson, Seth Price, Rob Pruitt, Jon Rafman, Stephen G. Rhodes, Amanda Ross-Ho, Sterling Ruby, Edward Ruscha, Lucien Smith, Valerie Snobeck, Frances Stark, Mateo Tannatt, and Oscar Tuazon.
The exhibition is curated by Vincenzo de Bellis. It will be open on Fridays, Saturdays, and Sundays from 4:00 to 7:00pm until November 14, 2013.
Date & time
Thursday, October 3–Thursday, November 14, 2013
Location
AAR Gallery
McKim, Mead & White Building
Via Angelo Masina, 5