Conversations/Conversazioni
Ethics in Public Art – Laurie Anderson, Firelei Báez, Walter Hood & Justin Garrett Moore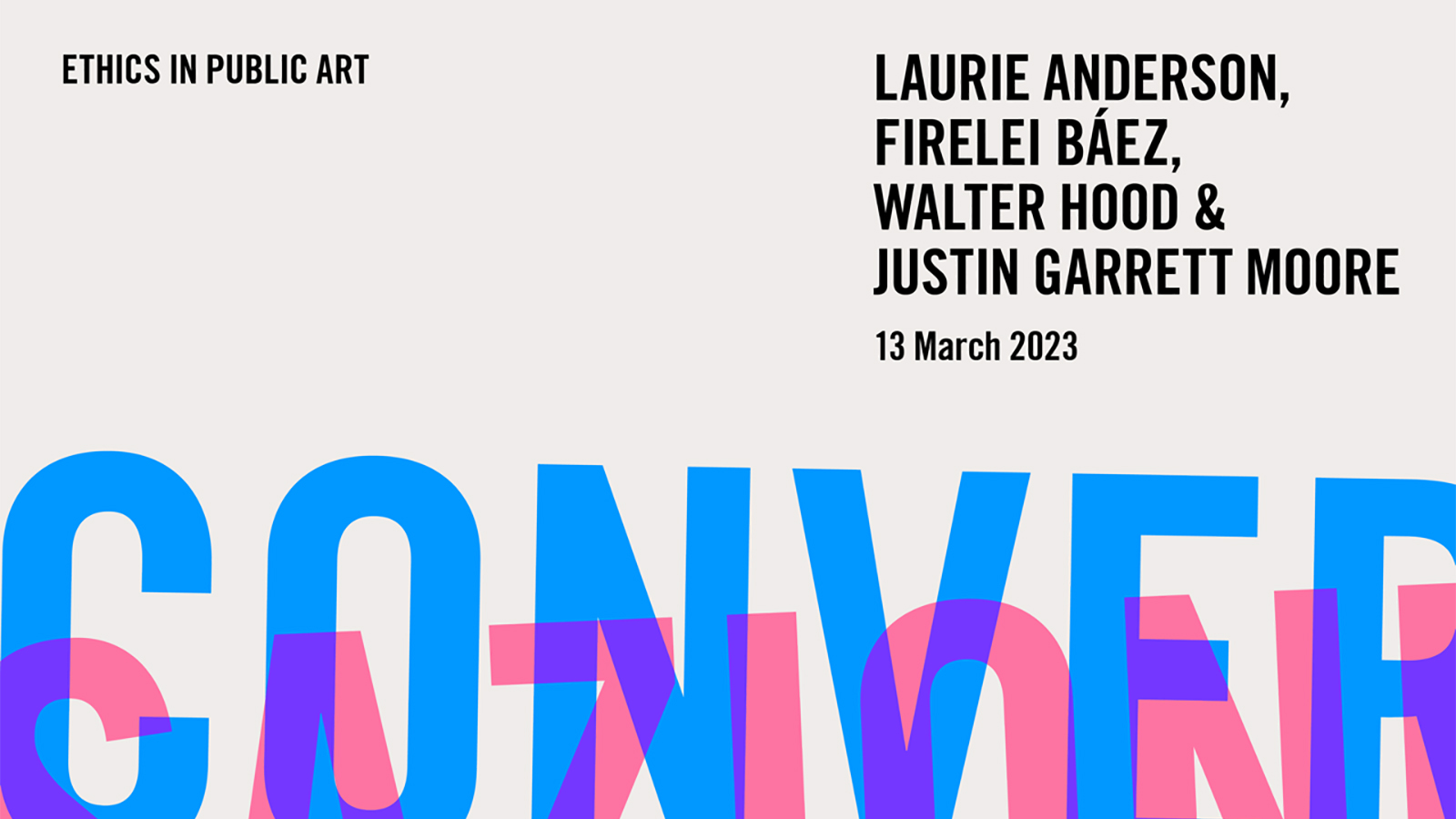 This conversation, the first collaboration between the New York Public Library and the American Academy in Rome, will consider the ethical, aesthetic, and social implications of public art and design. Laurie Anderson, Firelei Báez, Walter Hood, and Justin Garrett Moore will discuss the impact—positive or negative—that public art can have on the built environment, drawing from their personal experiences and work. They will explore thorny issues surrounding the decision-making process of civic projects and the motivations that lie behind public art or monuments. What happens when artistic and creative concerns clash with commercial and political ones? How can social justice and equity be addressed through aesthetics? How can public art best be used to strengthen and uplift communities?
Laurie Anderson (2006 Resident) is an artist based in New York. She is known for her interdisciplinary work in visual art, music, poetry, photography, film, electronics, and digital media.
The Bronx-based artist Firelei Báez (2022 Fellow) transforms visual references drawn from diasporic histories in her exuberantly colorful works on paper and canvas, large-scale sculptures, and immersive environments. The Institute of Contemporary Art in Boston is organizing a midcareer survey of her work, to open in 2024.
Walter Hood (1997 Fellow) is the founder and creative director of Hood Design Studio in Oakland, California. He is also a professor at the University of California, Berkeley, and an established lecturer on professional and theoretical projects.
Justin Garrett Moore is a designer, urbanist, and program officer for the Humanities in Place program at the Mellon Foundation. His work focuses on advancing equity, inclusion, and social justice through place-based initiatives and programs, built environments, cultural-heritage projects, and commemorative spaces and landscapes.
This event, to be presented in person at the Stavros Niarchos Foundation Library in midtown Manhattan as part of the LIVE at NYPL series, is free and open to the public. AAR President Mark Robbins (1997 Fellow) will introduce the speakers and join them onstage during the conversation.
In-person registration is sold out, but a limited number of standby tickets will be available on the night of the event. The conversation will also be streamed online. Please register in advance to watch the event live.
The Helen Frankenthaler Foundation generously supports Conversations/Conversazioni at the American Academy in Rome.
Date & time
Monday, March 13, 2023
6:30 PM
Location
Stavros Niarchos Foundation Library
455 Fifth Avenue
Seventh Floor
New York, NY
United States