Matera Imagined/Matera Immaginata: Photography and a Southern Italian Town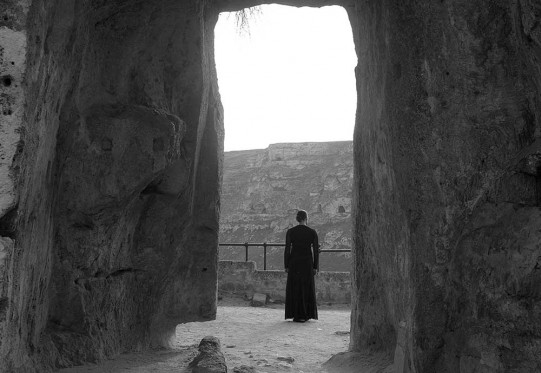 Artists: Piergiorgio Branzi, Esther Bubley, Mario Carbone, Henri Cartier-Bresson, Mario Cresci, Marjory Collins, Luigi Ghirri, Emmet Gowin, Fosco Maraini, David Seymour, Augusto Viggiano, Carrie Mae Weems, Dan Weiner, Joseph Williams, and Yasmin Vobis.
Organized by the American Academy in Rome, this exhibition highlights how photography has framed modern perceptions of Matera, a southern Italian town noted for its millennia-old cave dwellings. A palimpsest of history and traditions characteristic of Mediterranean culture, Matera in the twentieth century was transformed in the collective imagination from an ancient backwater at the edge of civilization to a cultural bellwether for the future of Europe. In the 1940s, following the publication of Italian author Carlo Levi's best-selling memoir, Christ Stopped at Eboli, Matera became a symbol of southern Italian backwardness. Today, just over a generation later, Matera has emerged as a model of authenticity that will represent Europe as Capital of Culture in 2019.
The exhibition charts Matera's recent evolution through photography. It highlights for the first time the town's constant allure for photographers around the globe, as well as their pivotal role in transforming what Levi termed Matera's "tragic beauty" into a symbol of ageless, Mediterranean place. Like filmmakers Pierpaolo Pasolini or Mel Gibson, who used Matera as a surrogate for Jerusalem, the photographers who ventured to Matera observed in its cave dwellings signs of the origins of civilization. At the same time, as was true of New Deal era photography in the United States, photography in Matera in the postwar years played a decisive role in shaping public policy, land reform, and social change. More recently, Matera has inspired artists to explore through photography concepts ranging from memory and perception, to identity and cultural patrimony. Featuring works by some of the most celebrated photographers of their time, including Henri Cartier-Bresson, Esther Bubley, Luigi Ghirri, Emmet Gowin, David Seymour, and Carrie Mae Weems, the exhibition presents a new narrative about Matera's ancient heritage.
Matera Imagined/Matera Immaginata: Photography and a Southern Italian Town is curated by Lindsay Harris, Andrew W. Mellon Professor of the Humanities at the American Academy in Rome. The exhibition and catalogue are made possible by Fondazione Matera Basilicata 2019. Additional support provided by Richard Baron and Adi Shamir Baron.
Matera Imagined/Matera Immaginata: Photography and a Southern Italian Town travels to the Museo nazionale d'arte medievale e moderna, Palazzo Lanfranchi in Matera from December 7, 2017, to February 4, 2018 as part of a series of events celebrating Matera as the European Capital of Culture 2019.
Exhibition Events
Inaugural Lecture
Dacia Maraini
October 12, 2017
5:30pm, AAR Lecture Room
Curator Lecture
Lindsay Harris
Matera Imagined
October 16, 2017
6:30pm, AAR Lecture Room
Lecture
Emmet Gowin
A Life in Photography
November 14, 2017
6:30pm, AAR Lecture Room
Conversation
Mario Cresco with Roberta Valtorta
Photography and Matera
November 21, 2017
6:30pm, AAR Lecture Room
Gallery Hours
Thursday–Sunday, 4:00–7:00pm
October 12–November 26, 2017
The exhibition will also be open on October 16, November 14, and November 21 from 5pm to 8pm.
This event is part of the series New Work in the Arts and Humanities: East and West.
Date & time
Thursday, October 12–Sunday, November 26, 2017
Location
AAR Gallery
McKim, Mead & White Building
Via Angelo Masina, 5