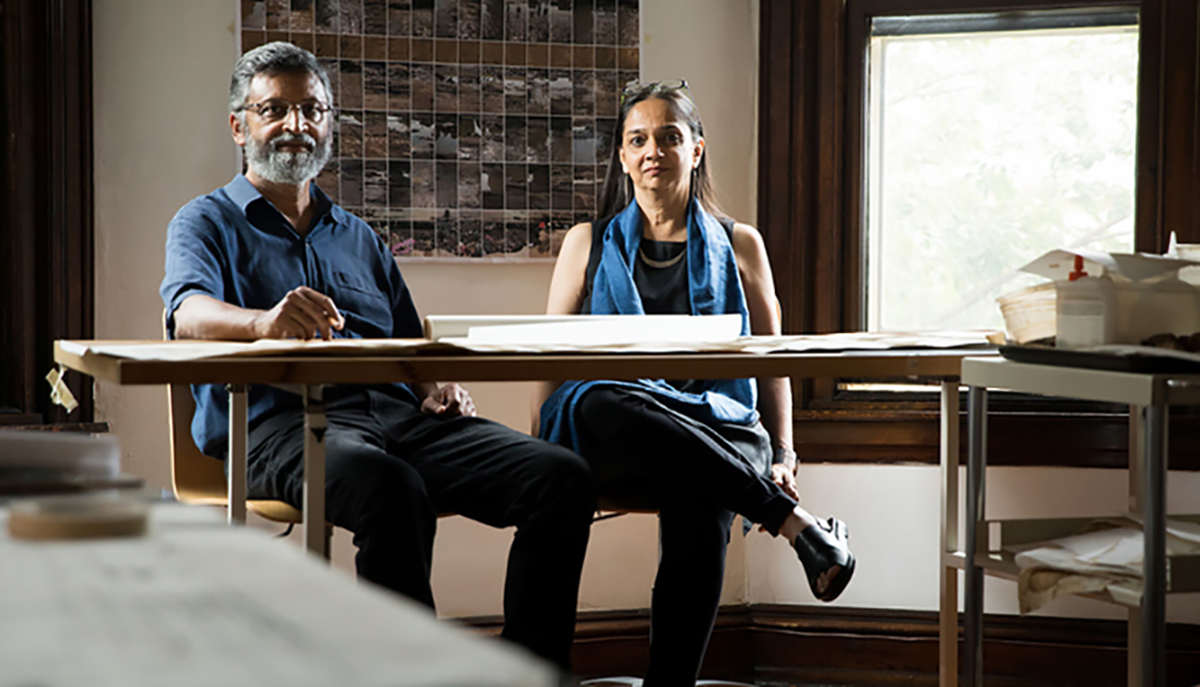 Anuradha Mathur and Dilip da Cunha
Mercedes T. Bass Landscape Architects in Residence
Profession
Architect, Landscape Architect, and Professor, Weitzman School of Design, University of Pennsylvania (Mathur)
Architect, Planner, and Adjunct Professor, Graduate School of Architecture, Planning, and Preservation, Columbia University (da Cunha)
Biography
Anuradha Mathur and Dilip da Cunha are the founders and principles of design firm Mathur/da Cunha, based in Philadelphia and Bangalore, India. An architect and landscape architect, Mathur is a professor in the University of Pennsylvania's Weitzman School of Design. Da Cunha is an architect, planner, and adjunct professor at Columbia University's Graduate School of Architecture, Planning, and Preservation who received a Guggenheim fellowship in 2020.
Mathur and da Cunha's work has focused on how water is visualized and engaged in ways that lead to conditions of its excess and scarcity, but also to opportunities that its ubiquity offers for new visualizations of place and resilience through design. They are authors of Mississippi Floods: Designing a Shifting Landscape (2001), Deccan Traverses: The Making of Bangalore's Terrain (2006), and Soak: Mumbai in an Estuary (2009), as well as coeditors of Design in the Terrain of Water (2014). Exhibitions and books form an intrinsic part of their practice.
In 2019 da Cunha published The Invention of Rivers: Alexander's Eye and Ganga's Descent, which draws attention to rivers—namely, the separation of land from water—as a fundamental act in designs of human habitation. In Rome Mathur and da Cunha worked on its sequel, an exhibition and book called The Ocean of Rain that embraces ubiquitous wetness as an alternative to river landscapes. They also documented "water infrastructure" in both photography and drawing, capturing "the linear flow systems like the aqueducts, drains, fountains, et cetera, and nonlinear systems like cisterns and wells that have mostly disappeared." Their goal was to determine if Rome is a city on the banks of the Tiber River, or a place immersed in the Tiber.