Islamic Art and Architecture in Italy: Between Tradition and Innovation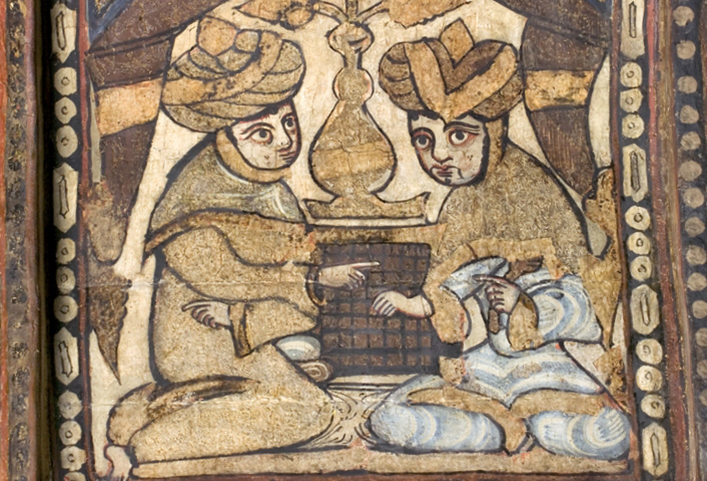 This event is part of the series New Work in the Arts & Humanities: East and West.
Gli Arabi in Italia, edited by Francesco Gabrieli and Umberto Scerrato and published in 1979, remains an inescapable, richly illustrated compendium for those interested in the wide variety of objects and monuments linked to Islamic culture in Italy. This conference critically investigates the origins of this influential volume, and the scholarly approaches and assumptions that shaped it, in order to contextualize more recent avenues of inquiry in the field.
Much has changed in the past forty years as scholarship about the Islamic presence in Italy and its legacy has been conditioned by a renewed attention to material culture, on the one hand, and a widespread interest in the Islamic world, on the other. Focusing on the latest methodologies used to analyze the categories of objects documented by Gabrieli, Scerrato and their collaborators—including ceramics, rock crystal, metalwork, and architecture—we can track the ongoing transformation and most up to date findings of this dynamic and multifaceted field. Featuring leading scholars from Italy, the United States and Europe, the conference aims to create a meaningful dialogue between the historiographical tradition culminating in the volume Gli Arabi in Italia and the innovative methods that have emerged since its publication.
The keynote address on May 17 at 6:30pm will be delivered by Avinoam Shalem, the Riggio Professor of the History of the Arts of Islam at Columbia University.
The conference is organized by Peter Benson Miller, Andrew Heiskell Arts Director at the American Academy in Rome, and Silvia Armando, Italian Fellow at the American Academy in Rome in 2017. It is made possible in part by the Embassy of the United States of America to Italy.
The event will be held in English and Italian. Most of the presentations will be streamed live at https://livestream.com/aarome.
COLLATERAL EVENTS
Keynote Lecture
Avinoam Shalem
Through the Backdoor: The Histories of 'Islamic' Art and Architecture in Italy
17 May 2018
6:30pm, Lecture Room
Exhibition
Yto Barrada, The Dye Garden
Thursday–Saturday, 4:00–7:00pm
10 May–8 July 2018
Location
AAR Lecture Room
McKim, Mead & White Building
Via Angelo Masina, 5