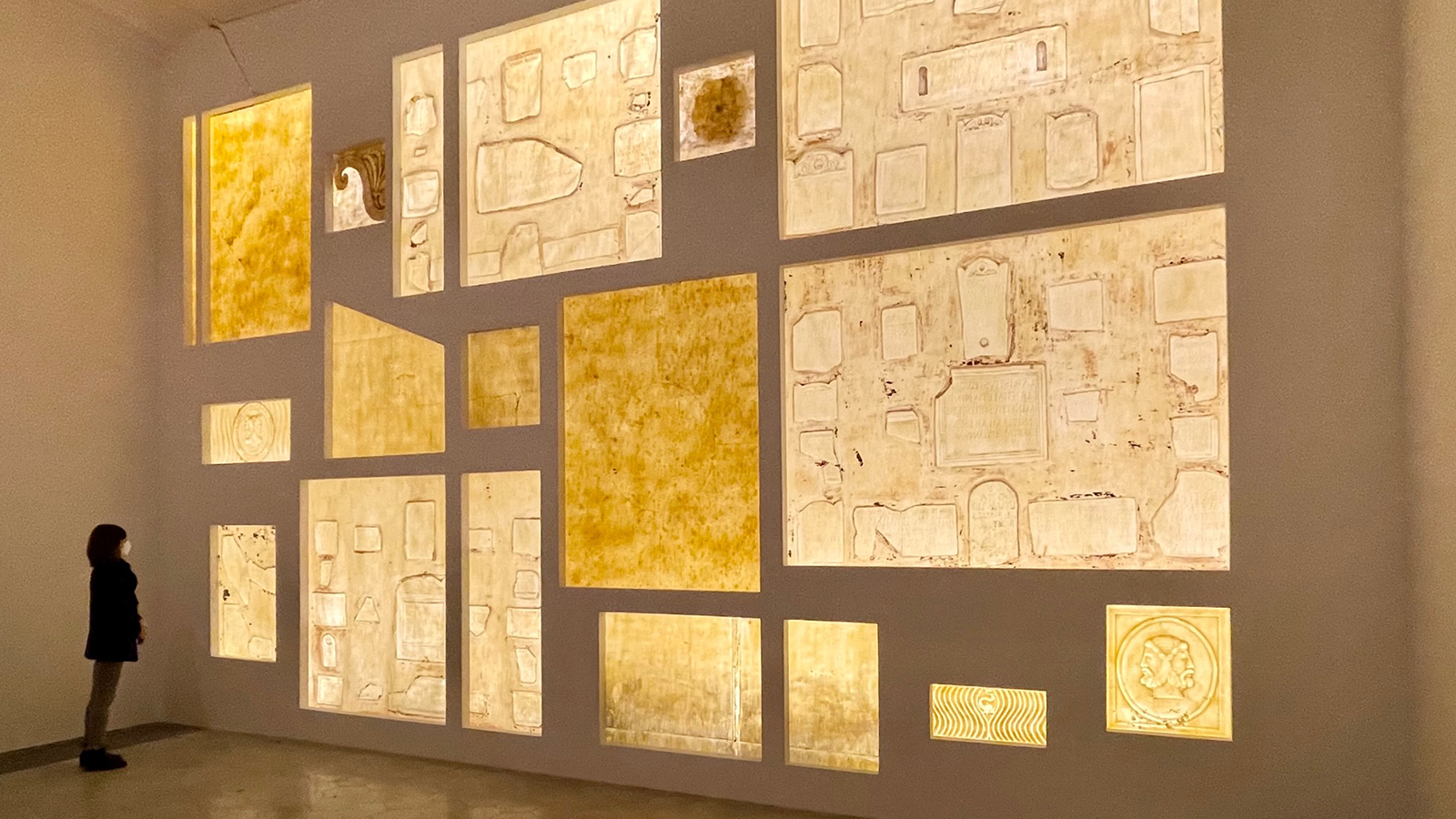 Curated by Lindsay Harris, interim Andrew Heiskell Arts Director, and Elizabeth Rodini, interim Director.
Opening reception: Wednesday, April 13, 7:00 to 9:00pm
A Conversations/Conversazioni with two artists from the exhibition, Guillermo Kuitca (2022 Resident) and Sonya Clark (2017 Affiliated Fellow), will be held in conjunction with the opening from 6:00 to 7:00pm. The event will be moderated by Harris.
Rome and its ruins have long provoked an aestheticization of decay—a meditation on the frailty of the physical world and the inevitable passage of time. Regeneration gathers the work of contemporary artists working across the globe to consider this paradigm with fresh eyes and push up against a paradox: that decay can seed a new, often beautiful materiality, whether of dust, rust, fragments, or weeds. Not far beyond these aesthetic matters lie ethical ones, concerning permanence and transmutation: how we conceive of and value change, and the struggles in choosing what to keep and what to let go.
These perspectives have a particular relevance to Rome and Italy. The Roman ruin is of course an archetype, while ancient Roman industry has left layers of dust still evident in the stratification of glacial ice. As an historic crossroads, Rome is also the nexus of cultural dialogues that span the globe from antiquity to the present. Regeneration invites us to consider this theme in Rome but also across differing geographic contexts, historical frames, and systems of value.
The artists presented in Regeneration represent five continents: Africa, Asia, North and South America, and Europe. They work across scales of time that are equally expansive, from the geologic—the pace at which the earth itself is degrading—to the momentary, a tempo we can register with our eyes and ears. The decline they trace is in some cases sociopolitical, in others environmental, and in others a simple fact of nature and materiality.
The decomposition and recomposition of materials is a universal theme that speaks to natural progressions of time and recovery, while hinting at the larger threats of social and planetary degradation. In this exhibition visitors will encounter the American flag coming apart and reimagined (Sonya Clark); the desertified grounds of an African plain strewn with rubble (Georges Senga); a medieval Italian church carved out by a flowing river (Robert Gerard Pietrusko); a fragmentary marble floor exploded and reassembled in graphite (Guillermo Kuitca); and the scarred memories of the Vietnam war in the metaphor of camouflage and chemical transformation (Binh Danh). Yeesookyung fuses together shards of porcelain with fills of gold, while William Dougherty's music resounds through the erosion of its wax cylinder supports. In the work of Jorge Otero-Pailos, Annalisa Metta and Luca Catalano, and Chiara Camoni, dust, rust, and weeds tie universal processes of change back to the city of Rome itself.
The term "regeneration" reminds us that decay inevitably leads to new life. This exhibition examines both process and impact, considering decay as a destructive and a generative phenomenon in diverse cultural contexts.
For those of you who can't see the show in person, you can virtually experienced the exhibition through Bloomberg Connects, the free arts and culture app, or via the specially created, bilingual exhibition website.
Artists in the Exhibition
Fabio Barile
Chiara Camoni
Annalisa Metta (2017 Italian Fellow) and Luca Catalano
Sonya Clark (2017 Affiliated Fellow)
Binh Danh
William Dougherty (2021 Fellow)
Guillermo Kuitca (2022 Resident)
Jorge Otero-Pailos (2022 Resident)
Robert Gerard Pietrusko (2021 Fellow)
Georges Senga
Julia Solis
Yeesookyung
Hours
Gallery hours are Friday, Saturday, and Sunday, 4:00 to 7:00pm.
The Helen Frankenthaler Foundation generously supports Conversations/Conversazioni at the American Academy in Rome.
AAR gratefully acknowledges the support of Bloomberg Philanthropies.
The Residency of Jorge Otero-Pailos is made possible by the Roy Lichtenstein Artist in Residence Fund. The Residency of Guillermo Kuitca is made possible by the Mary Miss Resident in Visual Art Fund.
Notice
Space in the AAR Gallery will be limited to fifteen people at any given time.
For access to the exhibition, guests will be asked to show a valid photo ID and comply with COVID-19 safety protocols for events:
Temperature checked at the gate
FFP2 masks required when indoors
Visitor contact information may be shared for contact tracing
Please contact events [at] aarome.org (events[at]aarome[dot]org) with any questions.
Backpacks and luggage with dimensions larger than 40 x 35 x 15 cm (16 x 14 x 6 in.) are not permitted on the property. There are no locker facilities available.
Physical Accessibility
The Academy is accessible to wheelchair users and others who need to avoid stairs. Please email us at tours [at] aarome.org (tours[at]aarome[dot]org) if you or someone in your party uses a wheelchair or other mobility devices so that we can ensure the best possible visitor experience.
If you are someone with a disability or medical condition that may require special accommodation, please also email us at tours [at] aarome.org (tours[at]aarome[dot]org).
Date & time
Wednesday, April 13–Sunday, June 12, 2022
Location
AAR Gallery
McKim, Mead & White Building
Via Angelo Masina, 5