On Thursday, October 23, the Academy's Villa Aurelia hosted a special concert, I Nostri Pini di Roma. These musical performances recognized the pines of Rome: the beauty they share, the symbolic force of their presence, and the shade and shadow they provide. The umbrella pines at Villa Aurelia and the American Academy were planted in 1921 and for more than a century have stood sentinel over the artists and scholars who have studied, sculpted, painted, and created.
Timothy Martin, adjunct professor of Italian opera history at the American University of Rome and an AAR Advisor, was the musical director who assembled an eclectic program of contemporary classical music. The concert featured works by composers with a personal relationship to the Academy, either as Rome Prize Fellows, as Residents, or as frequent guests. The concert began majestically with Ars Ludi, a percussion ensemble that performed Richard Trythall's Bolero, which "created the right energy for the start of evening," according to Ilaria Puri Purini, AAR's Andrew Heiskell Arts Director. "The musicians were phenomenal, and the piece so magical."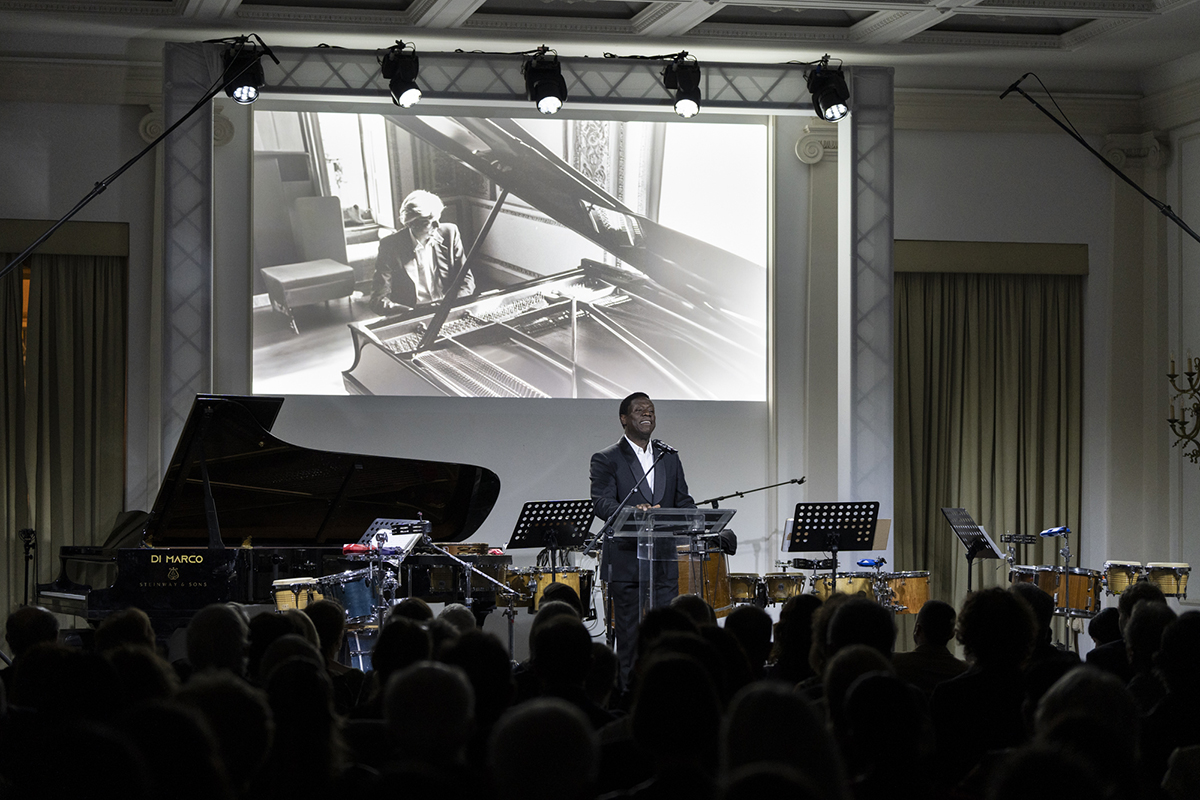 "Musically, the performance of [2014 Fellow] Eric Nathan's composition As Above, So Below was nothing short of brilliantly executed by trombonist Bruce Collings," said Martin. "Collings's soaringly beautiful, high, and lyrical baritone playing was poignantly contrasted with moments of low and dramatic agitated declamation."
Two composers performed their own work as soloists. Andy Akiho (2015 Fellow) struck a single steelpan drum for Beneath Lighted Coffers, a work inspired by his near-daily visits to the Pantheon during his fellowship year. Originally written as a concerto for steel pan and orchestra, he adapted its five movements into a medley. Pamela Z (2020 Fellow) presented a Suite of Works for Solo Voice and Electronics, including a third movement titled Studio sul Pino Domestico, which the composer explained was a "sonic exploration combining live processed vocalizations with sampled speech fragments taken from interviews I recorded in my Casa Rustica studio with members of the AAR cohort."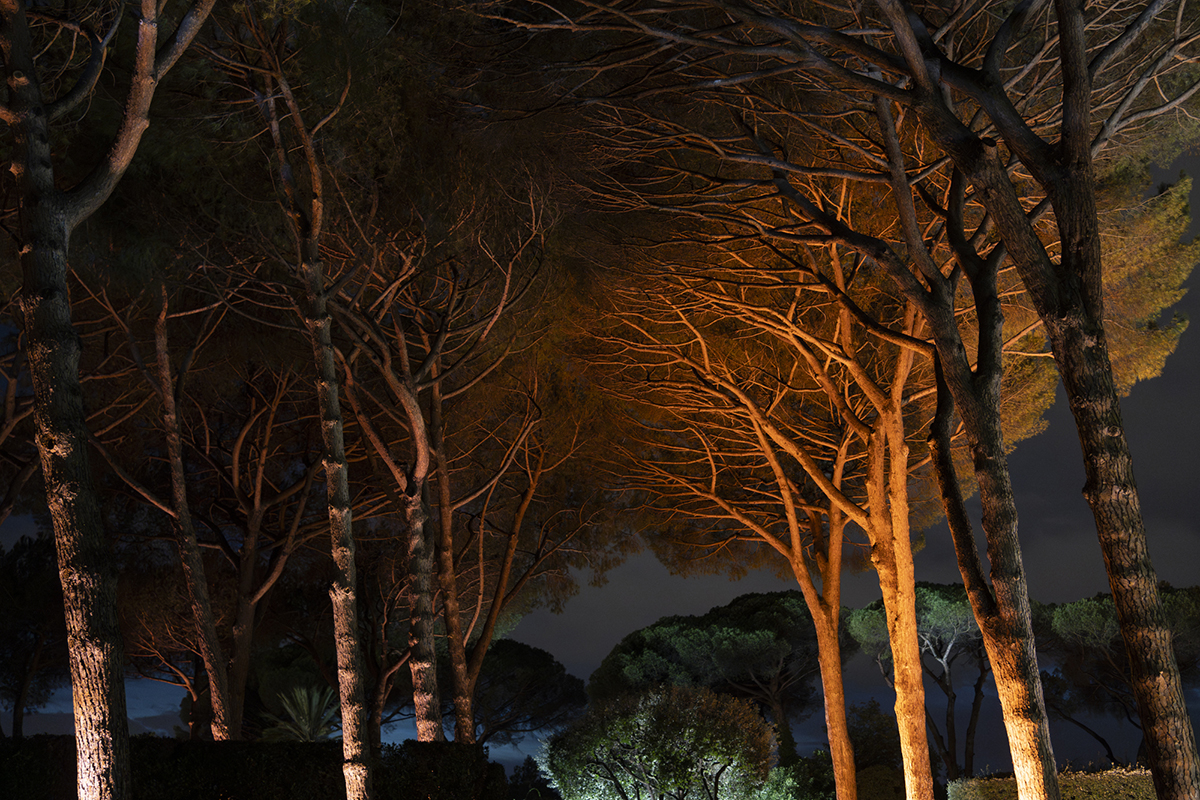 The pines of Rome directly inspired two works: Ottorino Respighi's classic composition in four movements, Pini di Roma (1924), whose third section is called I pini del Gianicolo (The Pines of the Janiculum); and 2023 Fellow Christopher Stark's response, Other Pines, written nearly one hundred years later. In the program notes Stark wrote: "My first forays into the city when I arrived were to the pine tree groves that inspired Respighi's The Pines of Rome." He chose different sites across Rome where these majestic conifers stand to inspire the new work. "I was amazed at how dissimilar the trees were at these locations," which were the Vatican, Villa Ada, various monuments associated with Mussolini, and Parco del Pineto.
Beaumont Consort performed Stark's work as well as Catabasi by AAR Advisor Marco Sinopoli, which he said "is tinged with shades that are at times dark and mysterious, and at other times flow into moments of faint nostalgia and lyricism." A composition from David Lang (1991 Fellow, 2017 Resident), called I Lie, was brought to life by Coro PicColino, led by the conductor Sabina Angelucci. The twin sisters Beatrice and Eleonora Dallagnese played Respighi's work, with four hands fluttering across a single piano keyboard.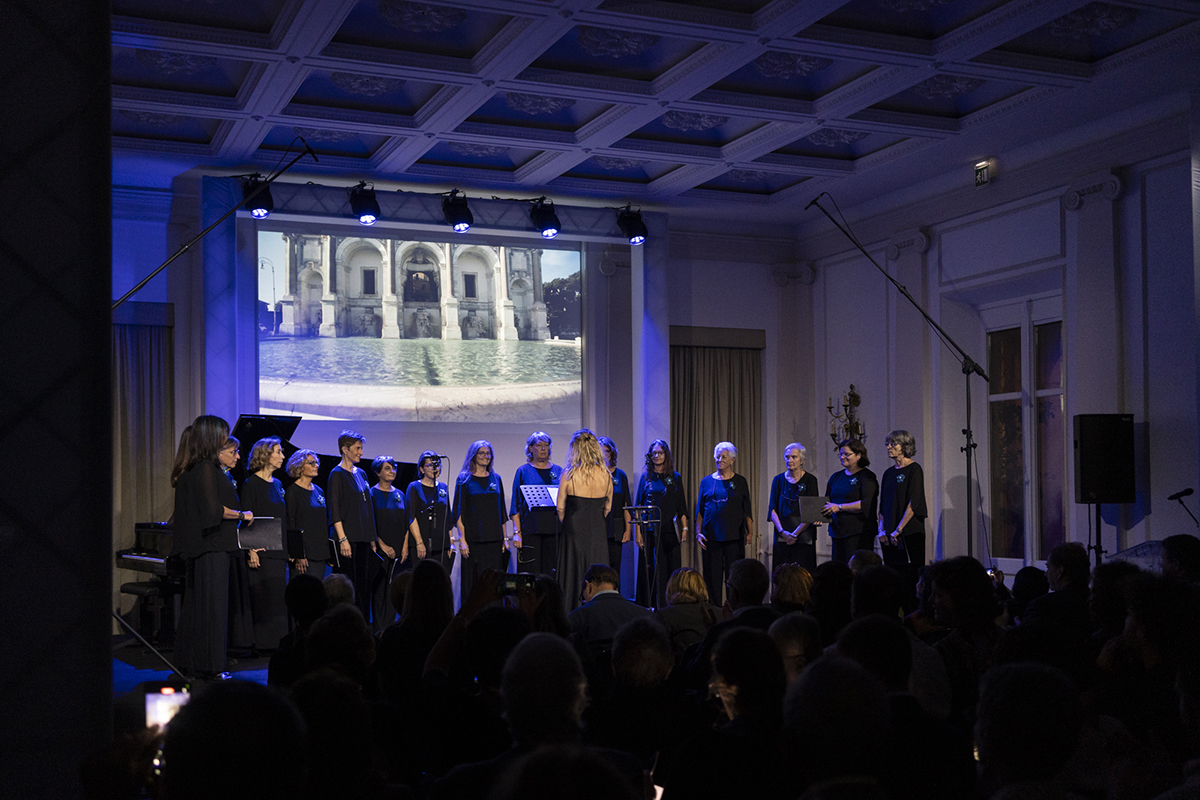 The five composers present at the concert—Akiho, Nathan, Sinopoli, Stark, and Pamela Z—received thunderous applause while taking a final bow onstage.
I Nostri Pini di Roma was dedicated to the memory of pianist and composer Richard Trythall (1967 Fellow, 1971 Resident), who died in 2022. (His widow, Marisa Trythall, attended the concert.) Richard Trythall was a voice of brilliance, generosity, and beauty at the American Academy in Rome, and we thank him for dedicating thirty years to our institution.