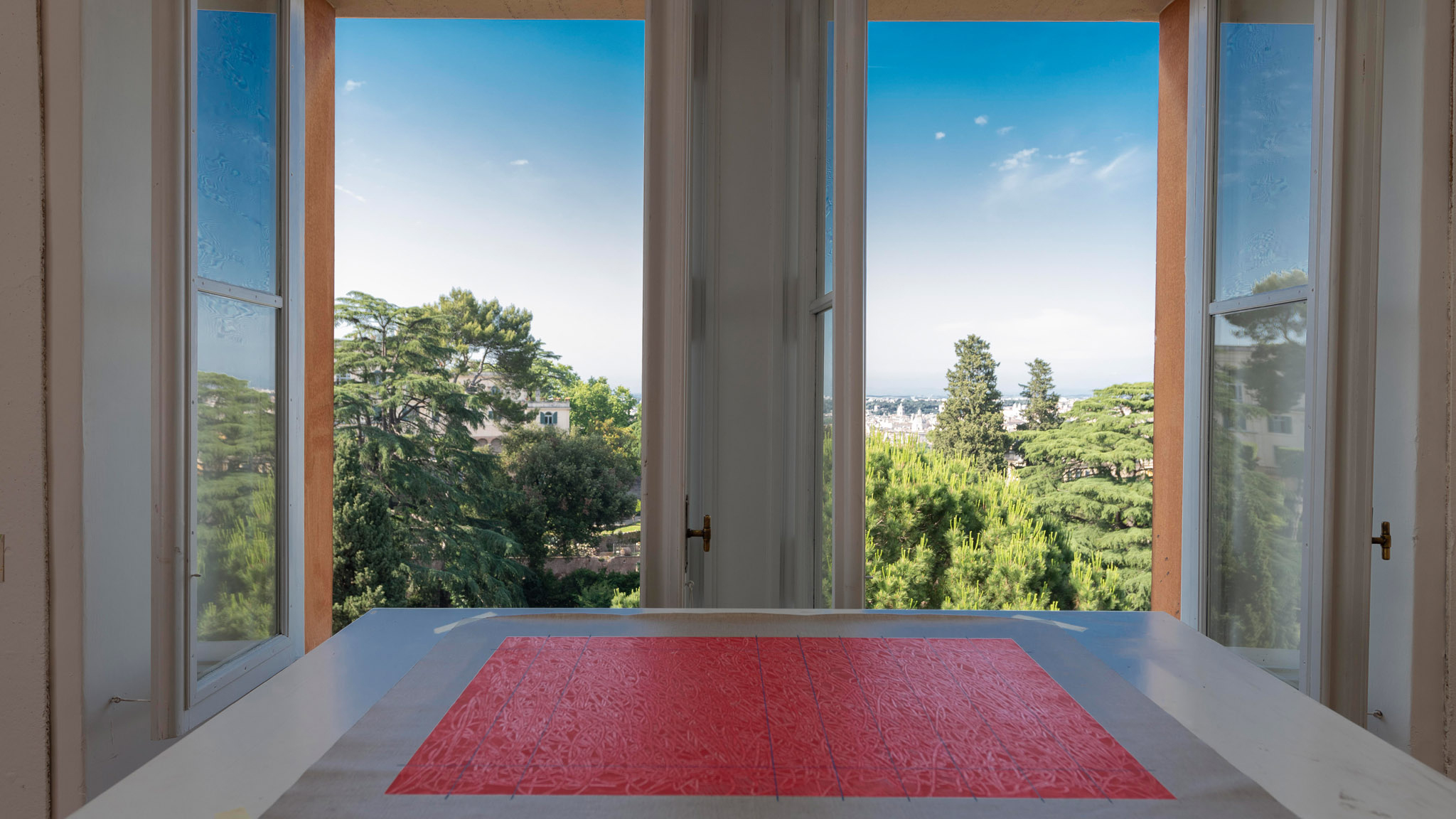 This event is by invitation only due to public health restrictions.
The Academy will usher in the new year with the 2022 Winter Open Studios, which provides access to the inner workings of Fellows' projects in studios and spaces throughout the McKim, Mead & White Building. The event will feature installations and performances by Rome Prize and Italian Fellows in architecture, landscape architecture, literature, musical composition, and visual arts that highlight some of the issues fueling Fellows' work this year, including voice, storytelling, migration, diaspora, representation, abstraction, urban agriculture, and water.
Participating in Open Studios this month are: Firelei Báez, Autumn Knight, Eric N. Mack, and William Villalongo (visual arts); Mireille Roddier and Keith Mitnick (architecture); Phoebe Lickwar and Valerio Morabito (landscape architecture); Jessica Hagedorn (literature); and Igor Santos and Tina Tallon (musical composition).
An essay titled "Openness," written by Interim Andrew Heiskell Arts Director Lindsay Harris (2014 Fellow), accompanies the event.
Read more about the projects and collaborations being presented by the participating artists and download a program with a map of the event.
This winter iteration, which is by invitation only due to public health restrictions, will be channeled through social media and an online web feature that will chronicle the excitement of the evening for viewers around the world. The event sets the stage for a dynamic roster of programs throughout the spring and summer, which we hope will welcome an ever greater number of visitors to celebrate Fellows' creative and intellectual accomplishments.
Winter Open Studios is made possible by the Adele Chatfield-Taylor Fund for the Arts. The program is also funded in part by a grant from the Fromm Music Foundation and in part by the Aaron Copland Fund for Music.
Notice
Invited guests will be asked to comply with COVID-19 safety protocols for events:
Access to the Academy requires the presentation of a valid photo ID and a Super Green Pass
FFP2 masks are required when indoors, and temperature will be checked before entry
Visitor contact information may be shared for contact tracing
Please contact events [at] aarome.org (events[at]aarome[dot]org) with any questions.
Backpacks and luggage with dimensions larger than 40 x 35 x 15 cm (16 x 14 x 6 in.) are not permitted on the property. There are no locker facilities available.
Date & time
Thursday, January 27, 2022 6:00–9:00 PM
Location
McKim, Mead & White Building